If most Africans are unconnected to the Internet, why the sudden urge to restrict access by African Leaders? Perhaps the online organisers are doing something right!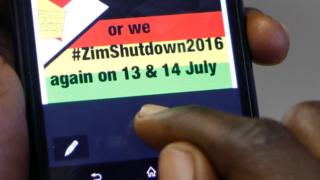 Source: https://www.bbc.com/news/world-africa-36776401
Internet access in Africa is growing, but still lags far behind the rest of the world. According to Internet World Stats 35.4% of people access the internet on the continent compared to 54.4% globally. However, even these figures hide unequal distribution; they include the South Africa with a rate of 53.7% and Morocco with 62.4% which contrast with Eritrea, DRC and Niger with rates of less than 5%.
According to the organisation which represent mobile operators worldwide, the GSMA, Mobile phone use in Africa at 44% remains is lower than the global average 66% and while the growth rate is higher than the average, it is showing signs of slowing, due to the cost and the ability to purchase of the younger user demographic. With internet prices, in some cases, up 40% the average income means it is out of the reach of people living in poverty, living in rural areas and most women on the continent. For broadband, people in Africa pay ten times as much of their salary as people in the rest of the world.
Not only does this increasing digital divide widen existing economic and social divide, it also stifles national debates and impedes those most in need of social change from accessing the new social media tools used so effectively for challenging power or organizing and networking around campaigning for change.
What happened to the ICT driven economic growth?
Group of students at a university in Johannesburg, South Africa. Photo: Africa Media Online/Antony Kaminju
Nearly every African country's national strategic plan for the last decade has included a plan for ICT development, spurred on by the African Union, multilateral partners and the ICT industry itself. There are talks of Tech Hubs in Kenya, Ghana, Rwanda, Nigeria to mention a few. However, all agree that it requires state-led investment in infrastructure, technology and skills-development. Often, the policy development, research and planning is done by external partners. As Thandika Mkandawire says the continent can no longer afford to leave "the thinking, planning, experimenting, and therefore learning, to foreign institutions". Apart from anything else, using this model, any expansion in ICT use in Africa will result in manufacturing growth primarily in Asia.
To spur development in ICT in a meaningful way, means enabling enhanced and expanded access to the internet, making it available beyond the tiny African middle classes and urban dwellers in such a way as to allow it to be used beyond the messaging systems (Mobile money in an excellent example of how mobile technology can be used widely). If done well, internet tools and new technological innovation can be used for genuine development purposes. Yet in quite a few countries the opposite is happening and access to the internet is being deliberately restricted using higher pricing, censorship and legislation.
Social Protests and Restricted Access
In Ethiopia the 2016-2017 uprisings against the government by the Oromo community led to the Ethiopian authorities blocking access to social media sites. Initially, it said it was to help students during exam week, by blocking unwanted distractions, but a more recent block occurred during street protests and was widely condemned. There is a telecom monopoly and that is unlikely to change despite the new progressive government.
In Kenya and new piece of legislation is been widely condemned by freedom of speech and human rights campaigners. The Film, Stage Plays and Publication Act 2016 and The Information Communication Technology Practitioners Bill are seen as hugely retrogressive and a response to anti-government protests. The former extends the remit of the Kenya Film and Classification Board to include publications and online content and the latter allows for sweeping security access by Kenyan authorities and also criminalises the publication of false information or hate speech online without any clear definition of what "hate speech" entails. Many commentators fear that the new legislation will lead to increased censorship.
In 2016, when activism against the Mugabe regime in Zimbabwe began to gain momentum, social media campaigns transformed into real-life protests.  To try to block access to the internet, the Postal and Telecommunications Regulatory Authority of Zimbabwe (Potraz) increased prices by a whopping 500%. The move backfired when public outcry (mostly online!) forced a reversal of the decision.
During the last Presidential Election in Uganda, the government of Yoweri Museveni (who has been in power since 1986) blacked out social media ostensibly for security reasons. Other countries with questionable democratic credentials, such as Chad and Congo Brazzaville did the same thing.
Even in South Africa, which has the most developed ICT backbone on the continent, many activists questioned the significant increases in internet and broadband charges in 2016-2017 (where consumers were forced to pay almost one and a half times the amount in 2016) and related them to the very successful Protest Movement #FeesMustFall.
In principle, African governments are committed to reducing the digital divide. However, for some of them, their fear of protests from the disadvantaged within their own country is driving them to limit access through legislation and pricing. #DefinitelyTimeForARealChange
Tags: Africa, Didgial Divide, Inequality, Kenya, South Africa, Zimbabwe